Are you looking to get involved in your community?
Join the Wood County Suicide Prevention Coalition for their Kick-Off event this fall.
There will be local community members speaking about how we as a community can prevent suicide deaths, how the coalition can help those who have lost a loved one to suicide, and first-person perspective from individuals living in recovery.
Food will be provided during each session, & there will be an opportunity for you to sign-up to be a part of the Wood County Suicide Prevention Coalition.
Sign up for either session to learn more about the work being done in Wood County to prevent suicide deaths.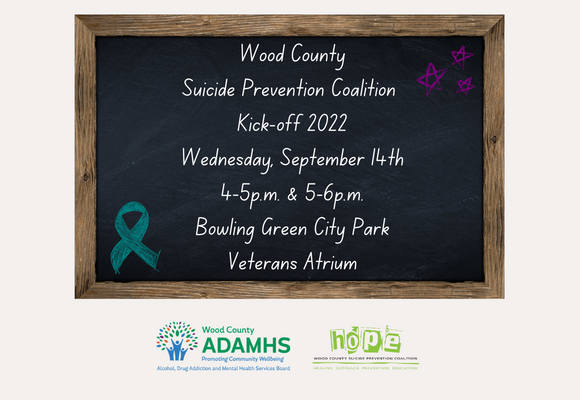 Register Now!
keyboard_arrow_leftPrevious
Nextkeyboard_arrow_right
To a depressed person, painful feelings often seem as if they'll last forever. But a little time, and professional intervention, can make a dramatic difference. Hopelessness can lift and life can be good again. You can say this to the hurting person with confidence, because it's true. It has happened for countless others who are now glad they're alive.